Last Updated on May 3, 2021
Intex pools are a great way to add family fun to your backyard this summer. Swimming pool games will be a great memory for your family! If you are ready to buy your Intex pool (or you already have it) you may be stuck on the question – "what should I put under my Intex pool?"
This article will cover 4 ideas of what to put under Intex pools:
What to use at a glance
Our Favorite
The standard INTEX ground cloth is OK
Third party pool pads are a BETTER option
Foam Tiles are the BEST option to protect your pool
The standard INTEX ground cloth is OK
Third party pool pads are a BETTER option
Our Favorite
Foam Tiles are the BEST option to protect your pool
After reading this article, you'll be able to answer the following questions.
What kind of products or materials can I put under my Intex pool?
What are the products or materials you should avoid putting under your Intex pool?
Where's the best place to put my Intex pool?
Intex Pools provide hours of fun and enjoyment for your family during those hot summer days, and since it's one of the best things you can buy for your kids and family, you should know how to properly use this wonderful product.
If you are installing your Intex pool for the first time, then one of the important considerations you should decide is what to put under the Intex pool to protect the bottom from punctures.
No matter what style of Intex Pool you are installing, this decision can make a big difference in how long your pool will last.
Avoid this common mistake – SAND
One of the most common mistakes that new Intex pool owners make is that they put sand under their pool. We understand why! It is easier to level, which is very important for your pool. However, sand easily washes away from under the pool during hard rain. For this reason, Intex VOIDS THE WARRANTY if you in fact had sand under the pool! Please read the warranty carefully to avoid this problem.

Here are 4 Ideas of What to Put Under Intex Above Ground Pools
There are a handful of things you can put under your Intex pool to make sure that it lasts longer, but we only recommend the following materials to put under your Intex pool. Keep in mind that Intex pools vary in size. See our article on Intex Pool Sizes to learn about all the different pools available.
The Intex Ground Cloth
The Intex Ground Cloth is included with most Intex Pool sets. It provides added protection for the pool bottom from rocks, twigs, or other items that could potentially puncture the liner. However, even though Intex Pools, in general, receive good reviews from the owners, the Ground Cloth is generally described as a sub-standard item and is too thin to provide much real protection. This is why many Intex Pool owners decide to opt for another option.
On Sale Now!
Third-Party Pool Pads
There are many companies that manufacture alternatives to the Intex Ground Cloth that provide more thickness and therefore more protection for your liner. Make sure you choose the right size for your pool. If your pool is 15′ diameter, then choose the 15′ diameter pad. There is no benefit to having a larger pad than the pool, and in fact, the excess can be cumbersome to manage and you will just have to cut it off anyway.
Gorilla Pad 15'
Gorilla Floor Padding Cut and Sized to Fit 15ft Round Above Ground Swimming Pool
Sits Underneath Your Pool Liner for Added Cushioning and Extra Liner Protection - Extends the Lifetime and Safety of Your Liner and Pool / Cushioning Eliminates Footprints from Forming
Extremely Hard to Penetrate - Specially Designed Geotextile / Strong Felt-Like Material Approximately 1/8in Thick
Impervious to Cuts from Sharp Objects, such as Glass, Roots and Rocks, Virtually Eliminating Vinyl Liner Bottom Leaks!
Interlocking Foam Tiles
This is a good way to add a decent amount of padding under your pool bottom. Without lots of padding, you can feel every texture of the ground under your feet in the pool. This bothers some people and foam padding feels great under the pool. It also makes cleaning the bottom of your pool using an Intex pool vacuum much easier since you have a more uniform surface without dips and divots for the dirt to get trapped.
You simply need to calculate how many squares you need for your pool. Here are some quick calculations using 2'x2′ foam tiles.
10′ diameter pool = 35 Tiles (140sq.ft)
15′ diameter pool = 60 Tiles (240sq.ft)
18′ diameter pool = 80 Tiles (320sq.ft)
20′ diameter pool = 115 Tiles (460sq.ft)
24′ diameter pool = 145 Tiles (580sq.ft)
We Sell Mats 3/8 Inch Thick Multipurpose Exercise Floor Mat with EVA Foam, Interlocking Tiles, Anti-Fatigue for Home or Gym, 24 in x 24 in, Charcoal Gray, 24 Square Feet (6 Tiles) (M24-10M)
DURABLE MULTIPURPOSE FOAM FLOOR TILES: High density, foam tiles available in 24" x 24" tiles in 3/8" thickness for firm cushion to lessen the impact of exercising and playing.
EASY INSTALLATION & CLEAN-UP: Assembles in minutes over any hardwood floor or flat indoor surface for extra padding needed throughout the home. Wipe clean with soap and water and air dry to finish.
KIDS PUZZLE MAT FOR PLAYROOM SAFETY: Designed for peace of mind when kids play on the floor. Use in playrooms, daycares or classrooms, for extra thick padding that makes playtime safe.
VERSATILE USAGE: For all lifestyle and activity needs, our Multipurpose flooring provides safe cushioning for light fitness exercises, yoga, playroom flooring, Cosplay costumes and support while...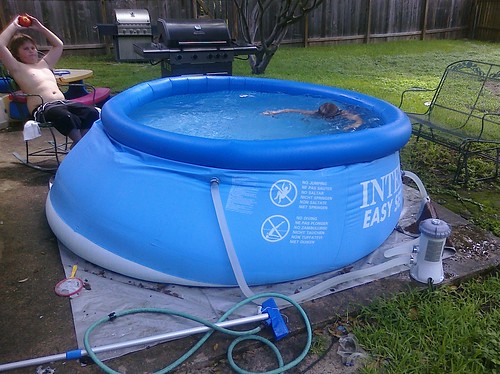 Old Carpet
This is another good material that will help you decide. We really like this solution since it can be FREE if you can find someone disposing of their old carpet. Just put the carpet down under the pool, with the plush side up. The carpet provides good protection from the stones and pebbles that could cause a tear in the liner, but it does not provide as much cushion and uniform surface for cleaning as the foam tiles do.
Frequently Asked Questions
Can I use sand under my Intex Pool?
The folks at Intex are fairly clear that you should NOT put sand under your pool. The sand can easily wash away, causing voids under your pool and risking your pool leaning and even collapsing.
Where's the best location to put my Intex Pool?
The most important point for choosing a location for your pool is that it must be a flat, level, and stable surface. That is the most important thing when choosing a location.
Can I put my Intex Pool on the driveway or concrete patio?
YES. As long as your driveway or patio is level, this is a great place for an Intex Pool. If you do choose to put your Intex Pool on your driveway or patio, then we highly recommend the foam tile solution mentioned above as a way to provide cushioning for the bottom of the pool.
What should I put under other types of above ground pools?
These tips are the same for any type of above ground pool. Bestway and Summer Waves are great alternatives to Intex Pools and this advice is the same for those brands.
What should I put under the legs of my Intex pool?
Stability of the legs is vital to a sturdy Intex pool. You should NOT put the legs directly on the ground, they will sink in once the weight of the water is pushing down. You SHOULD put a concrete paver under each leg. The paver should be at least 1ft x 1ft in size.
Conclusion
Those pretty much sums up everything we could discuss on this topic, and hopefully, we were able to answer your question earlier, "what to put under Intex pools?".
Intex Pool Reviews and Buying Guide
If you want to upgrade your Intex Pool, you should check out this comprehensive review we made just for you.